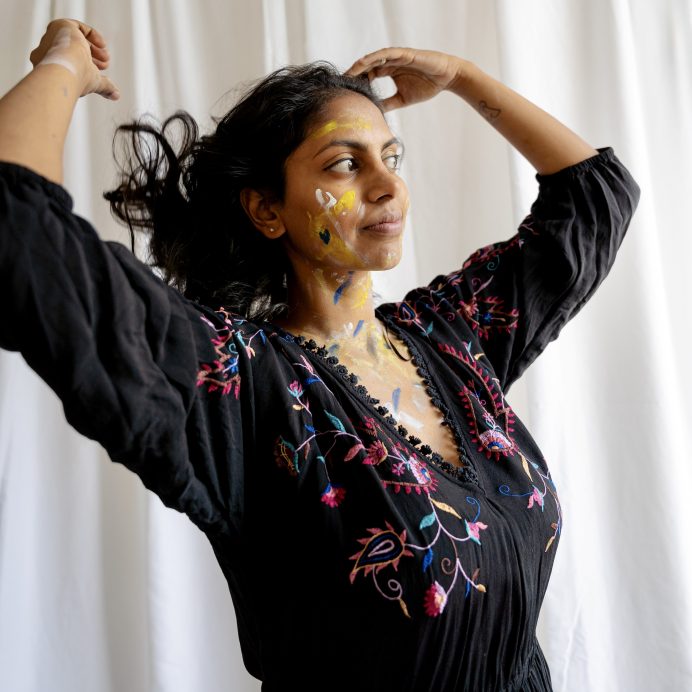 Sobi
London-raised singer-songwriter SOBI grew up surrounded by music, and even though neither one of her parents were musicians, going to concerts and listening to music was a huge part of their lives. Having been a fairly shy child, it was music that really brought SOBI out of her shell and allowed her to express herself. She began writing and performing her own songs at the tender age of 16. She initially wrote on the acoustic guitar but after watching Lianne La Havas perform in a London bar she was inspired to pick up an electric guitar, giving her emotive, delicate songs a raw and unique edge. SOBI has since gone on to play several tours (most recently supporting KAT FRANKIE on her 'Shiny Thiings' German Tour), building a name for herself around the UK and Germany and a loyal fanbase.
SOBI tells stories through her songs. Songs of relationships, blissful and mournful experiences, dark times and finnding silver linings. Thie cure to sadness is hope and that's what she creates in her songs.
To mark the release of her debut EP 'Home One Day' SOBI played a sold-out headline show at LUX, Hannover to an audience of 200. Her single 'Devil' landed in several independently- curated Spotify playlists including Alexrainbird's Winter 2020 Indie playlist, and her single 'Pearl' has accumulated over 400,000 streams on Spotify.
SOBI's upcoming single 'Honey Honey' marks the start of an exciting new chapter for her music. Having been approached by Music Supervisor Lindsay Wolfinngton (One Tree Hill, To All the Boys I've loved before) to write an original song for the soundtrack for the upcoming Netfliix Rom-Com, 'Love at First Sight', (Starring Haley Lu Richardson and Ben Hardy), SOBI once again delves back to her folk and country roots in this feel-good, optimistic love song. Produced by longtime collaborator Jan Jakob, 'Honey Honey' reminds the listener that there is still joy and romance to be found in this chaotic world.
SOBI is currently working on her Debut Album, due for release in early 2024.
go get
your tickets
---
01805-570070
---

0,14 €/Min inkl. MwSt.
Mobilfunk max. 0,42 €/Min, inkl MwSt.